When you are going to someones wedding, there is one thing you wait to see the most. That is the bride when she is walking down the isle, and of course her wedding dress. The wedding dress is usually really expensive and brides stress about getting the right one. For some finding wedding dress was an easy thing to find, right the first dress from the rack. But for some it could be a very depressing search. In the end it doesn't matter if it was hard or easy journey in finding the wedding dress. What really matters is that the bride will put on the most gorgeous dress she will ever wear in her entire life. At least for most of us brides this is truth.
Think about all the money spend on one dresses, and they are worn only once, for one short day which will clearly end too fast! That i is why i think that every bride needs LOTS of photos of her and her beloved dress! To be reminded of how beautiful her dress and bride herself was! Here are some ideas for your bridal look shoot.
One of the most beautiful photos is possible to have while taking photos somewhere in the nature. Near the river or just somewhere at your favorite childhood spot. Do not think about where everyone else is taking photos, but think which places possibly are important to you, as they will give you so much more and possibly help you relax and look great in the photos. Remember that what you are thinking and feeling will affect on how you look on the wedding photos.
photo
photo
photo
photo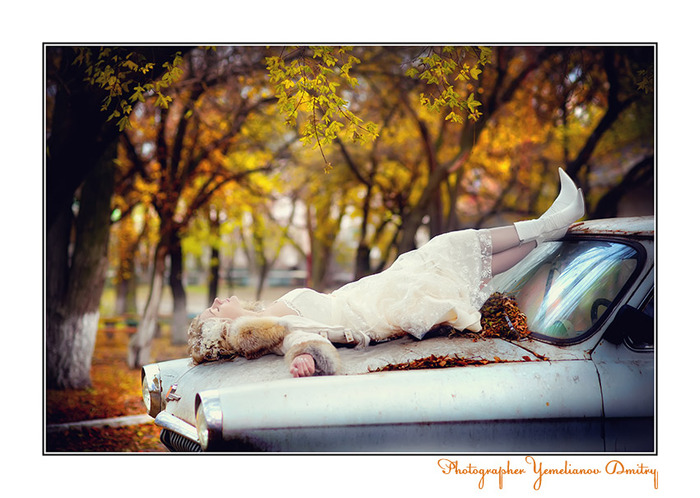 photo
Or how about put some "stage" for you photo shoot with your beloved dress ? <3
photo
photo
photo
photo
photo
photo
photo
photo
photo
How about making a masterpeace of yourself in a wedding dress? This kind of photo would look fantastic as a bigger picture on the wall.
photo
photo
And you can look happy on your bridal photos, you sure can :)
photo
photo
photo
photo
Katherine